Chidusz 8/2019: post-war pogrom in Gniewoszów, life in Gaza, new Yiddish serial novel, Torah mantles from Breslau
It has been six years since the first issue of Chidusz was published. Read more about the content of the birthday issue below.
A tale of love and hatred
In 2015 we published a testimony Pelagia Radecka gave about a pogrom she had witnessed in her hometown, Gniewoszów, in the early Autumn after the war. Pelagia decided to speak to us because of her wish to find Janek – the only member of the murdered Jewish family who has survived. In 2018, Yaacov Goldstein, a retired professor of history at University of Haifa, was found. In July 2019, he came to Poland to meet Pelagia. She – ninety years old, on a wheelchair – wanted to tell him everything. He could not bear listening.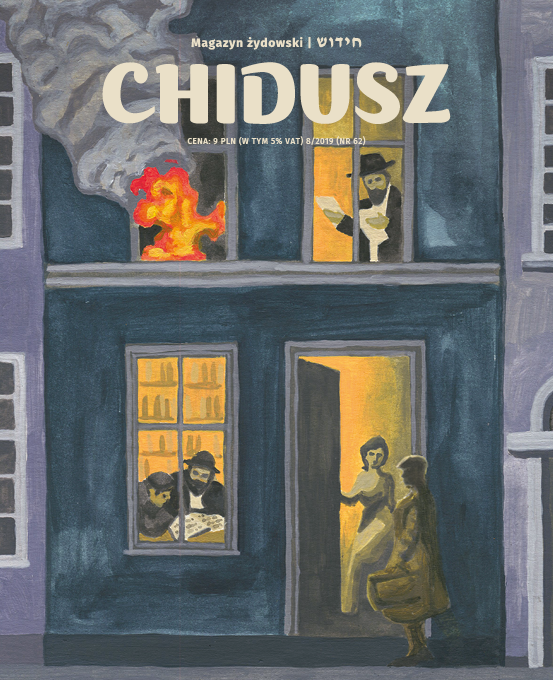 Jacob Dinezon – a writer rediscovered 
The illustration (by Edyta Marciniak) on the cover of this issue of Chidusz recaps the events that take place on the last pages of The Black Young Man. The novel, written in 1877 by Jacob Dinezon, became the first bestselling book in Yiddish, and made its author famous. Dinezon was in his days considered to be one of the three great Jewish authors, along with Isaac Leib Peretz and An-sky—all three were even buried in the same mausoleum in the Jewish cemetery in Warsaw. Today, only Dinezon remains largely forgotten.
We have chosen Der Shvartser Yunger-mantshik  by Dinezon to be published as our new Yiddish serial novel. The translation by Magdalena Wójcik is the first publication of The Black Young Man in Polish.
In this issue of Chidusz we also publish an interview with Scott Hilton Davis, the founder of Jewish Storyteller Press, which has recently published Dinezon's book in English under the title The Dark Young Man.
"If you don't fall asleep, a Jew will come"
Salim comes from Gaza, but for five years now he has been living in Sweden. He is easily persuaded to meet and talk, but first he wants to make sure Chidusz doesn't receive funding from the Israeli government. He also asks to not disclose his real name. For several hours he talks about his life in the Gaza Strip and the oppression from Israel, Hamas, Egypt, and the Palestinian authorities. It is not a black-and-white story, as many activists, politically involved either on the side of Israel or Palestine, would like to see it, but rather a black-and-black story about the tragic lives of the Gaza Strip residents.
Mieczysław Wajnberg – a composer rediscovered 
Wajnberg was born in Warsaw, and survived the Holocaust in Uzbekistan. Since 1945 he had lived in Moscow. When he died in 1996, not many knew about the numerous works he left behind. As the hundredth birth anniversary is celebrated this year, many orchestras and chamber ensembles specializing in contemporary music become more and more interested in the legacy of the Polish Jewish composer.
One mantle and two curtains 
This was an old-Hollywood style robbery. They waited until the building was empty, and then two of them went down from the roof to get the silver and gold worth half a billion of Reichsmarks. Only after the damage was done did the leaders of the Jewish Community in Berlin realize what they had held in their possession. It was because of this robbery in 1923 that the decision was made to photograph the possessions of all Jewish communities in Germany. Among them were three objects from Breslau which, most probably, have been later destroyed during the 1938 pogrom.
Torah Queeries
In this issue we also publish two queer commentaries – to Bereshit and to Noah – translated from English to Polish. Rabbi Margaret Moers Wenig explains why Judaism does not really cope with the issues of trans- and intersexualism, gender correction and cross-dressing. Rabbi Steven Greenberg writes about the "good" and the "bad" sex as defined by the Torah.
Click here to read about this issue's content in Polish. 
Click here to read more about our upcoming project Jewish Stories from Poland in English.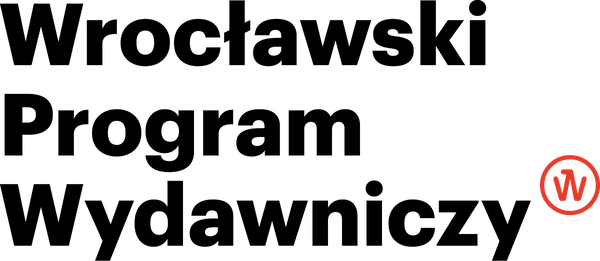 Issue 8/2019 of Chidusz is published in cooperation with The Wrocław Publishing Program.