Summer issue 2019: Irena Landau, Polish Jerusalem in Dzierżoniów, Iran, new Jewish Museum in Stockholm
IN THE ISSUE YOU WILL READ ABOUT:
Irena Landau
When it comes to the war, one can indeed consider me a special case, since most of my peers are already in Okopowa Street [Jewish Cemetery]. I am 87 years old, and so far I know what my name is, more or less. My husband died half a year ago. I broke my back tending him, but fortunately they managed to fix me, since, as you can see, I still walk. Somehow they got me out of there. (…) War, ghetto, hiding on the so called Aryan side, eventually the concentration camp. My parents survived, but they were penniless, so I ended up in an orphanage. Thus, I have, I would say, quite a broad spectrum.
Irena Landau is an author of books for children and youth. She never published her own memoirs, fearing possible distortions. "At least one fifth of what people tell is not true. It is close to the truth, but not entirely true. People tend to colour their stories. Someone received a piece of bread from someone, and in the story it is as if the person saved his or her life. Moreover, they remember wrongly", she says. 
In this issue of Chidusz (6/2019) Irena Landau shares her life story and some of her never published poems with Magdalena Wójcik. 
On the cover: Irena Landau's Warsaw apartment with reading glasses on the edge of a table. She would never put them there herself. She remembers how her father's glasses fell from his bunk bed in the camp. Luckily they did not break. "A Jew that cannot see", Irena Landau says, "it was a death sentence". Back then, in the camp, seeing the glasses fall, she fainted.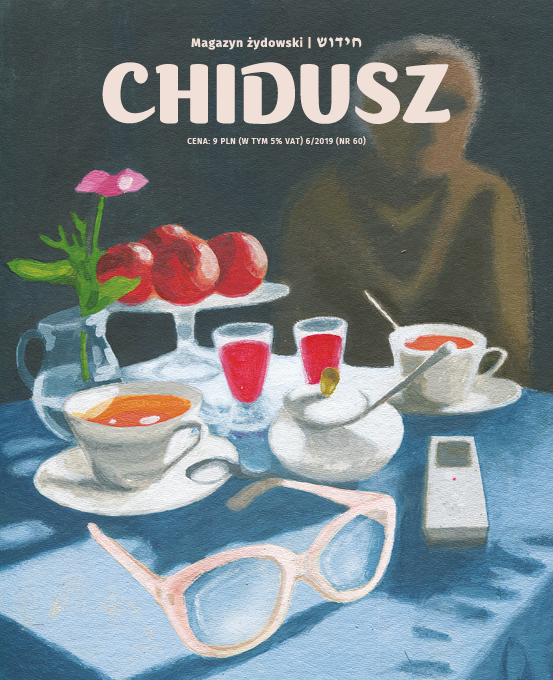 In this issue of Chidusz you will also read about:
Iran. A conversation between two women, privately close friends. One of them decided to leave Iran and moved to Poland. The other one, although equally dissatisfied with the regime and growing conservatism among people, still believes that the new generation will make things better in Iran and change will eventually come. The transcript of this conversation tells the bold truth about Iran and the situation of women there. Both our interviewees wished to remain anonymous.
Polish Jerusalem in Rychbach/Dzierżoniów. For five years following the war Rychbach (named so for just one year, until it was given a more Polish-sounding name Dzierżoniów) was the center of Jewish life in Poland. Nowadays, this history is hardly visible. Anna Grużlewska tries to bring it back to life in her album Polska Jerozolima [Polish Jerusalem] with hundreds of archival photographs. 
The new Jewish Museum in Stockholm. Judiska Museet, three years after moving out from its old premises, opened the gates again, in the Old Town of Stockholm. The building in which it is located served as Stockholm's first communal synagogue. In its new attractive exhibition the museum creators focus on the relationship between the minority and the majority. 
Rudi Herrnstadt. In the second part of his memories, Rudi Herrnstadt describes the consequences of the lost war in 1918, his student years spent in Munich, Breslau and Berlin, and the changes that the year 1933 brought.
Edenia – a City of the Future. In the fifth (penultimate) part of the Yiddish novel things get steamy and Zalman Kindiszman's silver head lies on the breast of Noemi. Zalman finds his great love, but he cries, kissing her. Why? An Indian witch once told him that he will die naked, embracing the love of his life.
Amos' God. According to the tradition Jewish boys are blessed to be like Efraim and Menashe, yet there is almost nothing known about these two biblical figures. Why not be like Jeremiah, Micah or Amos? Joanna Maria Machel tries to answer what Amos' God is like.
Rebellious son. Translation of Julia Pelc's queer Torah commentary to parsha Va'etchanan.
Chest binder and talit katan. Translation of Ari Lev Fornari's queer Torah commentary to parsha Ekev.