Chidusz 5/2021: From Cholera to Coronavirus
In the new Chidusz we write, among other things, about rabbinic responses to the problems of pandemics in previous centuries, the equality revolution in Hebrew language and the forgotten Jews of Psie Pole / hundsfeld.
From Cholera to Coronavirus: Recurring Pandemics, Recurring Rabbinic Responses
Rabbi Edward Reichman analyzes the responses of nineteenth-century rabbis to the problems of the pandemics:
The disease cholera, aptly called ("evil disease") in Hebrew caused seven prolonged pandemics in the eighteenth and nineteenth centuries. As opposed to the Spanish flu, which lasted less than two years, the cholera pandemics each spanned from seven to twenty-four years. We thus have halakhic responses to cholera over a considerable period of time. Some of the parallels [with the coronavirus pandemic] are striking, and it is humbling that despite our remarkable, divinely guided advances in both the understanding and treatment of disease, in many ways, little has changed.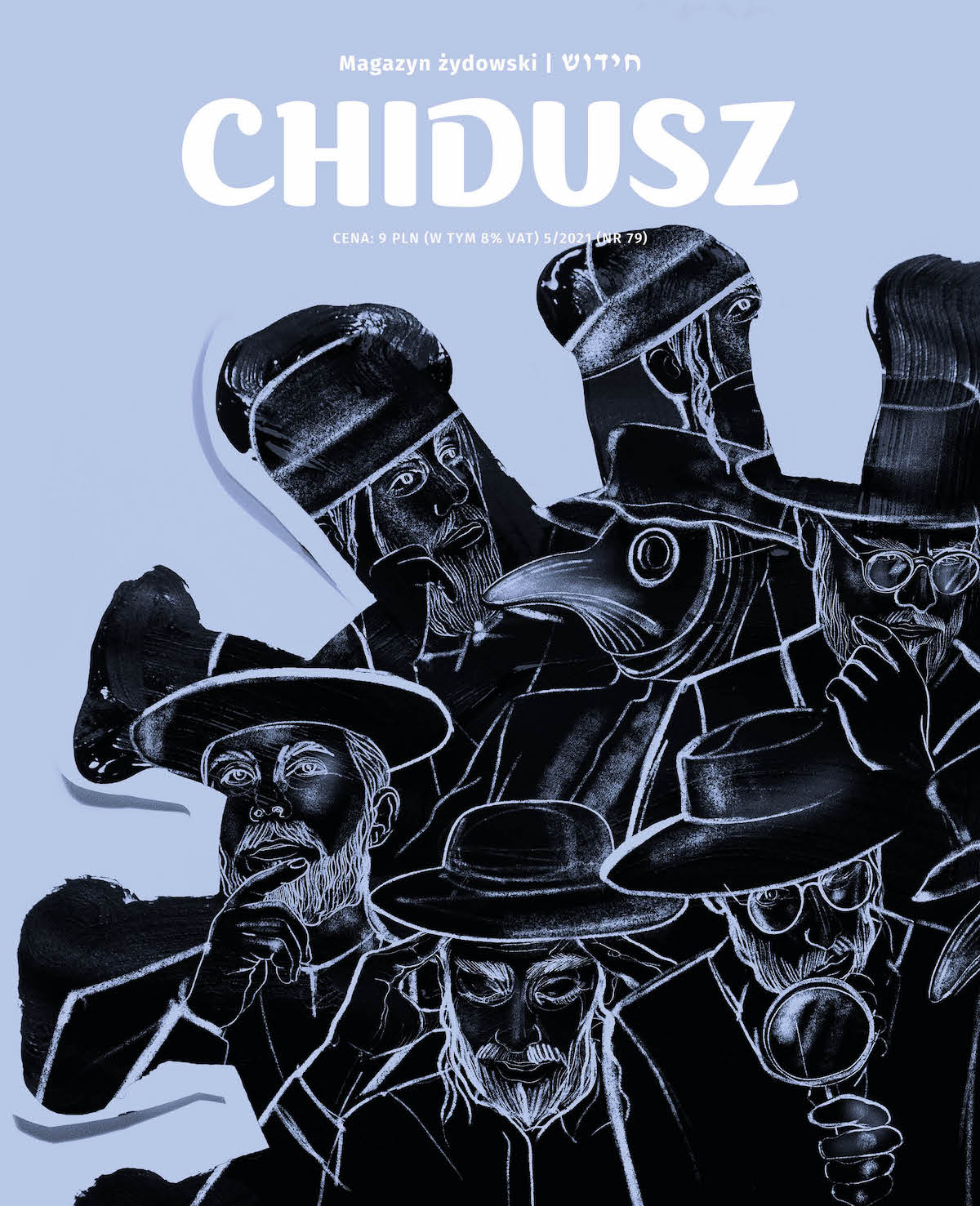 A Multi-gender Hebrew that doesn't discriminate
Almost one hundred and fifty years after the first attempts to adapt ancient Hebrew to the needs of the modern times, the Israeli graphic artist Michal Shomer started a small linguistic revolution. Her Multi-gender Hebrew project aims to create a more inclusive language by adding eleven new letters to neutralize the gendered words. Letters designed by Shomer are already used by some schools and governmental bodies, and the inscription Bruchim ha-baim (Hebrew for "welcome"), written in Multi-gender Hebrew, hangs in the meeting room of the Committee on the Situation of Women and Gender Equality in the Knesset.
The Jewish Psie Pole (Hundsfeld) 
Today only a few people know that there was a small Jewish community in the Psie Pole (Hundsfeld) – one of the districts of Wrocław (then Breslau). From 1811, its members were buried at the local Jewish cemetery. The cemetery survived the Third Reich and was only destroyed after Wrocław "was returned to the motherland". Although there is no trace of the cemetery today, a list of tombstone inscriptions has been preserved, thanks to which we can recreate a large fragment of the history of the Jews of Hundsfeld.
The Epidemic of Hate
After years of quiet, Israeli-Palestinian conflict exploded again. Several hundred people died and many were injured as a result of air raids, bombing and street riots. We give you four short texts – responses of four Jewish educators and activists (Rabbi Daniel Landes, Leah Solomon, Avi Dabush and Cat Zavis) to the escalation of the conflict. These four people have one thing in common – if they were to pick a side, they would pick the side of the civilians.
Run to Be Yourself
Her mother is a French-Polish Jew, her father is a half Senegalese, a half Gambian and a Muslim. For Rachel Khan, diversity is the foundation of her identity. Her career path is also varied: she was an athlete, graduated in law and became a cultural advisor for Île-de-France regional council. She is also an actress and a writer. Nowadays she runs the La Place hip-hop dance school. In March this year, she published an essay Racée (Éditions de l'Observatoire), which sparked a debate on racism in France (the French word racée literally means "racial", it may mean a victim of racism or a person of colour). Anna Pamuła talks to Rachel Khan about how to run to become yourself.
Praying for a Sustainable World 
Evonne Marzouk on how we can change the world through prayer:
Today's environmental movement seems to focus strongly on doing. There are things to buy, actions to take, petitions to sign, policies to advocate. It is rare for environmentalists to think of prayer as a tool for change. Many people in today's society think of prayer as a passive, contemplative activity – a break from action. 
Der Shvartser Yunger-Manthik 
In the eighteenth episode of the first ever Yiddish bestselling novel, Yankev Dinezon's Der Shvartser Yunger-Manthik (The Dark Young Man) things get truly dramatic. There will be hope, tears, a wedding and an attempted suicide. What will happen to the Jews of Mogilev? See for yourself! Translated by Magdalena Wójcik.
Neither Adding nor Taking Away 
A queer comentary to parashat Ree by Gregg Drinkwater and David Shneer:
For Orthodox Jews, to "obey the commandments" means keeping all of the 613 mitzvot found in the Torah following halacha essentially to the letter, and living a life embedded in Jewish tradition. For most Jews who approach Judaism liberally (Reform and Reconstructionist, but also Conservative Jews, to a degree), to "obey the commandments" is interpreted a bit differently. Many progressive Jews are deeply committed to Jewish tradition and the Torah but approach the mitzvot and Jewish law with varying degrees of skepticism and modification. In some cases, progressive Jews are comfortable with outright rejection of those precepts that seem to violate competing ethical standards or that do not easily conform to the realities of contemporary society.