Chidusz 6/2022: Male Theology and Women's Experience
On the new cover of Chidusz, synagogue becomes an exclusively female space. Women occupy all the downstairs seats. Balconies, on the other hand, are left empty. The service is led by a female rabbi. The artwork illustrates ideas from two essays by an outstanding Jewish feminist theologian Judith Plaskow in which she helps us understand why we should distance ourselves from the male God language and imagery used as a tool of exclusion of women from Jewish religious life.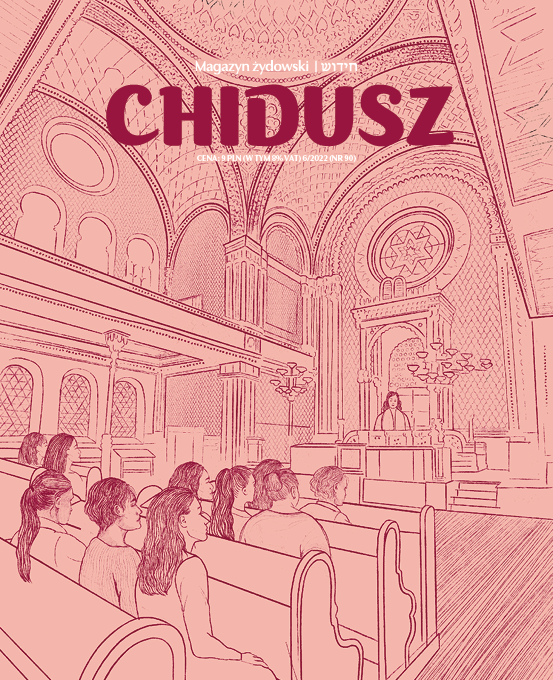 Male Theology and Women's Experience
In her next essay from the collection The Coming of Lilith Judith Plaskow argues that because theology has been created, for centuries, almost exclusively by men, its visions of God and human experience are distorted:
My argument is simple: much theology is the product of a specifically male experience and naming of reality and has produced a one-sided picture of the world. To pretend otherwise is to blind ourselves to the destructive personal, political, and theological effects such theological one-sidedness can have. It is also to lose the opportunity to humanize theology through the deliberate incorporation of women's experience.
Translate into Polish by Jola Różyło
The Jewish Feminist. Conflict in Identities
Judith Plaskow explains the problematic relationship between women and religious traditions:
We are here because a secular movement for the liberation of women has made it imperative that we raise certain Jewish issues now, because we will not let ourselves be defined as Jewish women in ways in which we cannot allow ourselves to be defined as women. This creates a conflict not just and not primarily because the women's movement is a secular movement whose principles we are attempting to apply to an ancient religious tradition, but because the women's movement is a diƒerent community around which we might center our lives. The conflict between communities is the first level on which I experience the conflict between being a woman and being a Jew.
Translate into Polish by Jola Różyło
The Disneyland of Albany I
The Disneyland of Albany is a short story by Israeli-American author Shelly Oria from her debut collection New York 1, Tel Aviv 0. In her prose, the young writer covers a whole range of issues, from addiction and polyamory to parenthood and emigration. The recurring themes of Oria's intimate stories told with honesty and simplicity, are the cultural differences between Israelis and Americans, dissatisfaction with living in your homeland, but also the hardships of finding your place in a different country. 
His cell phone vibrated in his pocket, and he knew it was Gillian before he looked. Maybe he should have had said yes, let her come. He almost never met a collector without Gillian; she was the one finding these buyers for him, affluent Jewish people, for the most part, who loved art or wanted to love art, or who Gillian thought might confuse supporting Avner with supporting Israel. And she'd have known her way around once they got to Albany— she'd lived there at some point, if he wasn't mistaken— and maybe that would have allowed Avner to be less tense, more attentive to Maya. He assumed she understood, when he mentioned his daughter's visit, that he'd take this one alone, and was surprised when she still asked. Should I tag along? She wasn't even his gallerist, not yet— he needed to get more recognition for her to take him on— and while they worked together toward that, and while she was someone who seemed to believe in him as an artist, which meant a whole lot, wouldn't they be crossing some line if she were coming on this trip with him, meeting his daughter? And he could see it, that was the truth, as if watching a film: Maya in the kitchen back in Tel Aviv; Netta with her back to her, chopping a salad. This woman was also there with me and Daddy, she speaks Hebrew but kind of funny. And Netta says, Really? How nice— in a tone that doesn't give a thing away to the girl— but deep down she now thinks even less of him, if that's possible, and she starts chopping just a bit faster. Would Netta have confronted him then? Are you seeing someone? Probably not. It's been over two years now, and they've learned to— what, exactly?— not ask questions.
Translate into Polish by Jola Różyło
Chaim Grade: Facts of a Life
Part IV of Susanne Klingenstein's and Yehudah DovBer Zirkind's article contains hitherto unknown information about the life of the outstanding Yiddish writer Chaim Grade. The essay offers the first research in Grade's papers – infor­ma­tion ver­i­fied by doc­u­ments about Grade's home and edu­ca­tion, his escape to and sojourn in the Sovi­et Union between 1941 and 1945, his return to and depar­ture from Vil­na in 1945, and his sub­se­quent moves to Łódż, Paris, and New York.
Translate into Polish by Jola Różyło
Chaim Grade's Di agune (Aguna) in Polish
Part VII of the Polish translation of Chaim Grade's novel. 
Reading this episode of the outstanding Yiddish novel Di agune, we will witness the dramatic events between Reb Levi and his daughter Cirele.
Translated into Polish by Magdalena Wójcik
A Queer and Pleasant Danger 
The True Story of a Nice Jewish Boy Who Joins the Church of Scientology and Leaves Twelve Years Later to Become the Lovely Lady She Is Today 
In part X of her memoir, Kate Bornstein talks about her long-term relationship with Catherine (who later became David), her acting career and becoming a writer, and leaving San Francisco for Seattle in order to fulfil her sadomasochist fantasies. 
Sailor and Lula and I had been speculating what the three of us might look like—me belonging to the two of them. How would that work? I was still David's girlfriend. But Sailor and Lula told me over and over how much they wanted to give me "some good pain." I didn't know what that meant, but I wanted with all my heart to prove to them I could take it. The cruel geography of our lives frustrated any real physical contact. But those ladies were smart, and that's part of why I'd been falling in love with them. They wanted to hurt me, and I wanted to take it, and so Sailor and Lula worked out a plan to test my desire that Sailor later bragged about as having been both sly and literally theatrical. 
"When are you next going onstage?" 
I told her I had a performance coming up on the weekend, three days away. Sailor laughed. 
"OK, here's what you're going to do. Sometime Friday night, while you're onstage, you're going to dig your fingernail into your own hand until you draw blood. Call us as soon as you get home from the theater that night." 
I wore my nails long and red back then, so it was easy. The end of the show is a blackout. Then the lights come up, and I take my bows and say my thank-yous. That's when I did it. Slowly, I drove a long red fingernail into the flesh of my right palm. Audience members were cheering. They were watching what they thought were tears of joy—they were righter than they thought. 
Sailor and Lula were thrilled when I told them. Sailor says she remembers that being able to cause me pain over that much of a distance was the beginning of the ownership. 
David and I weren't having sex with each other anymore. My long-distance slave sessions with Sailor and Lula had grown increasingly inventive. They kept me spellbound with the very real joy I felt in obedience, service, and the mind-boggling paradox of pleasurable consensual slavery. I made the decision to leave San Francisco when I realized there was no place for me in that town any more than there'd been a place for me in Philadelphia. 
The mainstream lesbian community didn't want anything to do with me because (a) I was transsexual, (b) I had a boyfriend, and (c) I was a sadomasochist. Even the sadomasochist dykes in the city steered clear of me because I played with pointy things and I wanted them to draw my blood. Sailor and Lula were deep into blood sports, along with a fairly large number of Seattle SM dykes. Seattle might could be a home, I reckoned, and I made up my mind to call Sailor and Lula to ask if they would consider owning me in real life. After six years in San Francisco, I'd move up to Seattle. The three of us were thrilled. Lula drove down to San Francisco to help me move, about two weeks before I was supposed to start rehearsals in New York.
Translate into Polish by Jola Różyło
In Brief
In a couple of dozens of short articles, among other topics, we write about online civil marriages recognised by Israeli law, Polish right-wing politician Joachim Brudziński's jokes on German's "sharing their gas" with Poland during World War II, the very first kosher Michelin restaurant and the 81st anniversary of the Jedwabne pogrom.