Chidusz 2/2022: Poland. Country of Mystics, Thieves, and Madmen
Polish premiere of Jerome Rothenberg's poems; first-ever in-depth study of Chaim Grade's papers; conversation with Rabbi Alisa Zilbershtein about helping Ukraine; further adventures of Jewish ex-scientologist and trans activist Kate Bornstein; and the next chapter of Grade's Di agune.
No Time To Be Passive
Alisa Zilbershtein comes from Khabarovsk in Russia but spent many years in Kyiv. She is currently studying to be a rabbi at the Jewish Theological Seminary in New York. She talks to Chidusz about her struggle to save Ukrainian refugees – "remotely".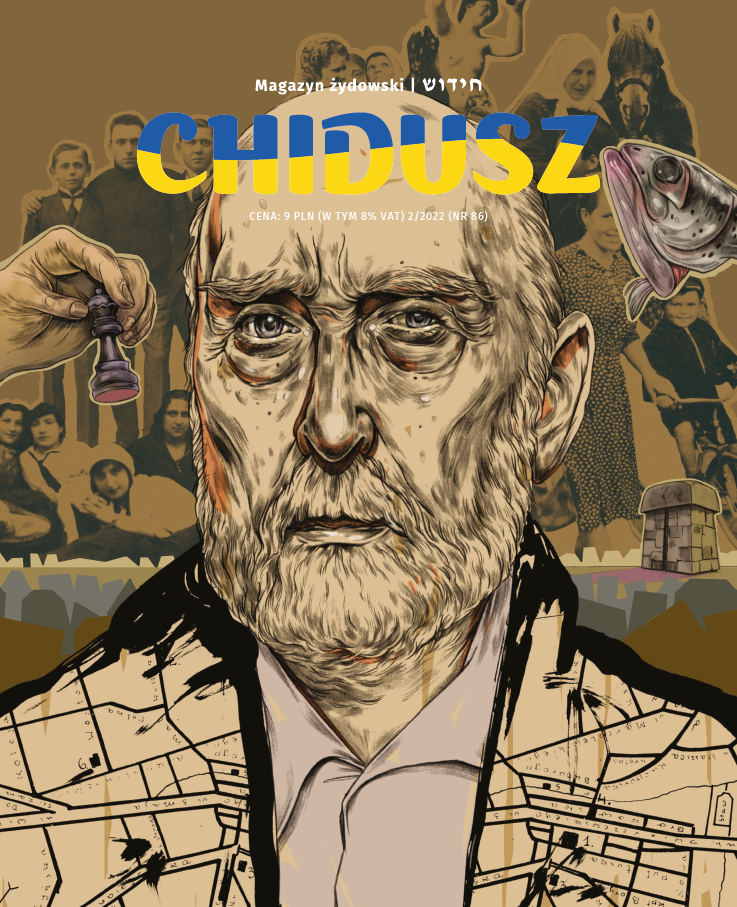 The Time Is Never Right
This issue of Chidusz is in large part devoted to the life and work of Jerome Rothenberg – American poet, translator and performer; author of over ninety collections of poetry and editor of innovative anthologies. In an interview conducted by Dorota Czerner, Rothenberg talks about his Polish-Jewish roots and recreating the esoteric past in his poems. Along with the interview, we publish the first-ever Polsih translation of Rothenberg's poems from his collection Poland/1931 (translated by Piotr Rypson). The author himself describes the work as "an experimental attempt to explore, and recover, ancestral sources in the world of Jewish mystics, thieves, and madmen." Drawing from the kabbala and Hasidic lore, folk custom and historic fact, Rothenberg constructs a free-verse collage that gives voice to the interior journey between the New World and the Old. 
Chaim Grade: Facts of a Life
Starting with this issue of Chidusz we will publish in four instalments Susanne Klingenstein's and Yehudah DovBer Zirkind's article containing hitherto unknown information about the life of the outstanding Yiddish writer Chaim Grade. The essay offers the first research in Grade's papers – infor­ma­tion ver­i­fied by doc­u­ments about Grade's home and edu­ca­tion, his escape to and sojourn in the Sovi­et Union between 1941 and 1945, his return to and depar­ture from Vil­na in 1945, and his sub­se­quent moves to Łódż, Paris, and New York.
Chaim Grade's Di agune (Aguna) in Polish
Part III of the Polish translation of Chaim Grade's novel. 
After a long and painful struggle, the eponymous aguna Merl is finally… getting married!
Translated by Magdalena Wójcik
A Queer and Pleasant Danger 
The True Story of a Nice Jewish Boy Who Joins the Church of Scientology and Leaves Twelve Years Later to Become the Lovely Lady She Is Today 
In part VII of her memoir, Kate Bornstein talks about the Hubbard family Christman and the thousands of gifts sent to them every year; the painful parting with her daughter Jessica and her second marriage; being one of the most successful salesmen of courses in Scientology; and, finally – being kicked out of the Church after discovering some monkey business. 
Translated by Jola Różyło
In Brief
In twenty-four short articles, among other events, we write about the Russian invasion of Ukraine; Arizona Jews' fight to stop using Zyklon B in executions; how Barbara Engelking became the heroin in the e-mail scandal; the sequel of the infamous The Boy in the Striped Pyjamas; the Israeli Tinder Swindler; the devastation of Jewish cemetery in Sieradz; and the new season of The Marvelous Mrs. Maisel. 
Click here to read about this issue in Polish.